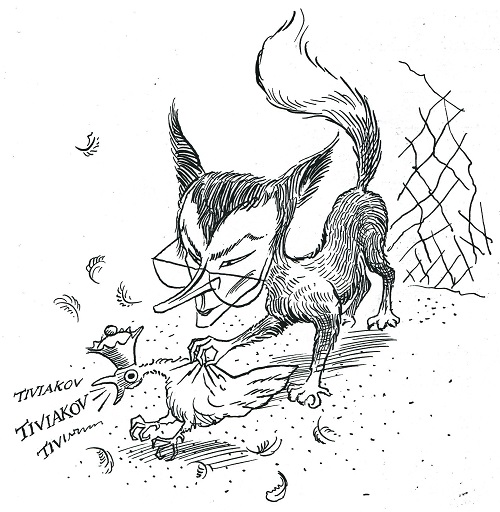 Eigenlijk was het vreemd dat Sergei Tiviakov op zijn tweeëndertigste nog nooit het Nederlands kampioenschap had gewonnen. Hij vond zichzelf niet zwakker dan Van Wely of Sokolov en deed intussen al zes jaar mee. In die tijd was hij nooit lager geëindigd dan de derde plaats. Een keer had hij het zelfs tot een gedeelde eerste plaats gebracht, maar was hij in de barrage verslagen. Maar in 2006 was het dan eindelijk zover. Met de fraaie score van 9 uit 11 zette hij rest van de deelnemers, inclusief titelverdediger Van Wely, op grote afstand.
De tweede titel volgde een jaar later. Nu won hij wel een barrage, ten koste van publieksfavoriet Daniel Stellwagen.
Dat er nog een derde titel volgde zal hem niet hebben verbaasd, maar wel dat hij er tot 2018 op moest wachten. Hij was intussen geen vaste waarde in het toernooi meer en stond op de reservelijst. Pas door een afzegging mocht hij meedoen. Hij greep zijn kans en won, onder meer door Van Wely en Sokolov te verslaan, ja zeker nog steeds die twee.
Tiviakov groeide op in de Zuid-Russische stad Krasnodar en studeerde daar af als econoom. Ondertussen schaakte hij veel en goed. Op zijn zestiende werd hij wereldjeugdkampioen tot achttien jaar, op zijn achttiende was hij grootmeester. In 1994 speelde hij mee in het winnende Russische Olympiadeteam en in datzelfde jaar verloor hij in de kwartfinale van PCA kandidatenmatches van Michael Adams. Kortom, het ging heel aardig met zijn Russische schaakcarrière.
Toch besloot hij in 1997 naar Nederland te verhuizen. Waarom? De achteruitgang van de Russische economie en de sterke groeiende criminaliteit brachten hem ertoe het land te verlaten, vertelde hij. Hij koos voor Nederland, en specifiek voor Groningen, omdat hij vaak in het plaatselijke open toernooi rond de Kerst had meegespeeld en daar zijn contacten had. Intussen heeft hij naast de Russische ook de Nederlandse nationaliteit.
Sinds die jaren is Tiviakov een vaste waarde in het Nederlandse schaak, een betrouwbare teamspeler die eigenlijk altijd een plusscore behaalde. Met het team werd hij in 2001 en 2005 Europees kampioen,. In 2008 werd hij in Plovdiv als eerste en tot nu toe enige Nederlander individueel Europees kampioen.
Dat zijn mooie resultaten, maar had er na zijn fraaie start in de jaren negentig, toen hij even de nummer tien van de wereld was, niet meer in gezeten?
Tegen Gert Devreese zei hij in 2004 in Schaakmagazine daarover: "Ik had wellicht te weinig ambitie, heb toen te veel open toernooien gespeeld. Misschien had ik toen veel meer uitnodigingen moeten afzeggen en me echt alleen moeten richten op de toptoernooien. Maar ik speelde toen overal om veel geld te verdienen." Spijt dat het zo gelopen was had hij niet, daarvoor had hij teveel belangstelling voor andere onderwerpen. "Ik ben niet zo'n beperkt persoon als veel andere topschakers." Een van zijn hobby's is het bezoeken van zoveel mogelijk landen. In 2018 stond dat aantal op 87.
Over aantallen gesproken, tot voor kort was Tiviakov in het bezit van een opmerkelijk record. Tussen 28 oktober 2004 en 27 september 2005 bleef hij in 110 achtereenvolgende partijen met het serieuze toernooispeeltempo ongeslagen. Dat resultaat zegt veel over zijn speelstijl: degelijk en positioneel. Niet vreemd als je je opleiding hebt gekregen aan de Smyslov schaakschool. O ja, dat record is hij sinds kort kwijt aan Magnus Carlsen. Daar je meerdere in erkennen is geen schande. (MbdW)
Sergei Tiviakov: sound and positional
Actually it was strange that at 32 Sergei Tiviakov hadn't won the Dutch Championship yet. He didn't think he was any weaker than Loek van Wely or Ivan Sokolov, and had already been competing for six years, never ending worse than third. Once he had even come in shared first, but had been beaten in the playoff. However, in 2006 finally it was his turn. With a magnificent 9 out of 11 score he kept the rest of the field, including the title defender Van Wely, at a respectful distance.
The second title followed one year later. This time he did win a playoff match, at the cost of crowd puller Daniel Stellwagen. It probably didn't surprise him that he also won a third title, but it was a little unexpected that he had to wait until 2018 for it. By this time he was even no longer a fixed value in the tournament, and had been put on the reserve list. He was allowed to play only after another participant called off. Tiviakov grabbed his chance and won the tournament, beating, among others, Van Wely and Sokolov – yes, these two were still around.
Tiviakov grew up in the city of Krasnodar in southern Russia, graduating as an economist there. In the meantime he played a lot of chess, and did it well. At sixteen, he became the U18 World Champion, and at eighteen he became a grandmaster. He was a member of the Russian team that won the Olympiad in 1994, and in the same year he lost to Michael Adams in the quarterfinals of the PCA Candidates Matches. In short, his Russian chess career was coming along nicely.
In spite of this, he decided to move to the Netherlands in 1997. Why? The economic decline and the strong increase in crime in Russia brought him to leave the country, he said. He opted for the Netherlands – specifically, for the city of Groningen, because he had often played in the Open tournament that was annually held there around Christmas, and had some contacts in the city. Today, he possesses both the Russian and the Dutch nationalities.
Ever since those years, Tiviakov has been a fixed value in Dutch chess, a reliable team player who always managed to achieve plus scores. He won the European Championship with the Dutch team in 2001 and 2005. As the first and, so far, only Dutchman he became the individual European Champion in Plovdiv in 2008.
Those are beautiful results, but after his splendid start in the 1990s, shouldn't he have gotten more out of it? He told Gert Devreese in Schaakmagazine in 2004: 'Perhaps I was not ambitious enough, I played too many open tournaments in those days. Perhaps I should have called off many more invitations, and should have focussed more on the top tournaments. But in those days I just played everywhere, to make a lot of money.' He didn't regret that things had turned out this way – he was too much interested in other subjects: 'I am not such a limited personality as many other top players.' One of his hobby's is visiting as many countries as possible – in 2018 he had reached a number of 87.
Talking about numbers – until recently, Tiviakov possessed a remarkable record. Between 28 October 2004 and 27 September 2005 he remained unbeaten in 110 consecutive games with the classical tournament time control. This result reveals a lot about his playing style – solid and positional. This is not so strange for a player who was educated in Smyslov's chess school. By the way, he recently lost this record to Magnus Carlsen – but there is no shame in acknowledging his superiority. (MbdW)