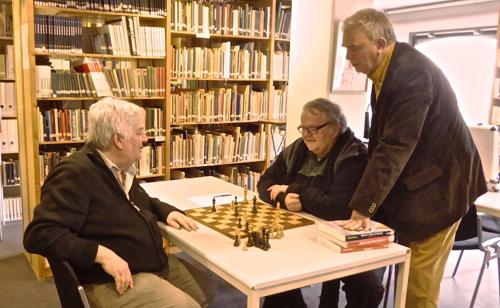 Books and journals
Here you will find over 10,000 books on a wide range of chess subjects and a huge number of journals, both domestic and foreign, waiting for you. They may deal with purely technical matters, but also with the history of chess and the interconnections between chess and numerous fields of science. Chess, after all, is more than just a game. None of the books or journals have to be applied for: they have been arranged in such a way as to be immediately available to you for consultation.
Should you be unable to find something, please address the librarian or one of the other library staff members. We would like our books, journals, etc. to be permanently available to the public. It is therefore not possible to borrow books or journals from our library.
In 1995 our complete store of books and journals had been computerized. Not only will you be able then to find books according to author and title, but also according to subject. Besides, it has become possible to search for books on our website. Thus, one has the opportunity of preparing oneself for a study visit to our centre.
It is our aim to keep the library as up-to-date as possible. The latest books from a great number of publishers may therefore be found here. Whether with regard to developments in the theory of opening moves or back issues of journals, you will only rarely be unable to find what you are looking for. Moreover we have in our possession antiquated and rare books. Understandably, these are kept under lock and key. One may examine them by arrangement with the librarian.
Computers and other equipment
Chess computers programs are at the public's disposal. One may play a game of chess, or analyse it, or perform various operations. With the aid various programs one may retrieve millions of games, sort them, and repeat them. On request the equipment is demonstrated. MEC is willing to act as a consultant and intermediary in the process of selecting a chess computer or program. Through internet it is possible to follow the latest developments at tournaments. The photocopier is at your disposal for photocopies.
Press cuttings
For press cuttings MEC is the right place to come to. If you are interested in newspaper reports of tournaments, matches, interviews, developments in the world of chess, do come to our centre, where you will find e.g. the Lems Archive containing a large collection of press cuttings from the thirties.