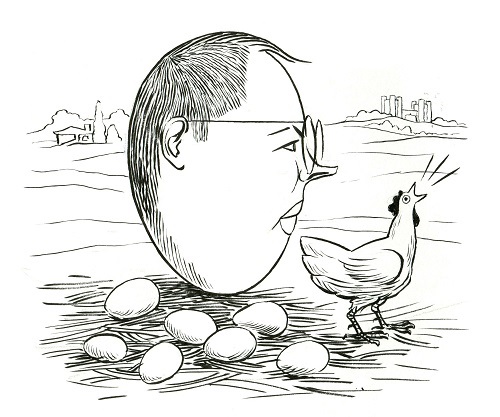 Wat zou Rupert met deze tekening bedoeld hebben? Dat Nigel Short een eihoofd heeft, dat is duidelijk, maar waarom al die andere eieren en een kraaiende haan?
De tekening is uit de jaren negentig van de vorige eeuw, toen Nigel op de top van zijn kunnen was. Als wonderkind had hij al een grote carrière achter de rug en in 1993 plaatste hij zich als 28-jarige voor de finale van het FIDE-wereldkampioenschap! Het was dus onzin om te zeggen dat hij pas uit het ei was gekropen. De kraaiende haan lijkt te doelen op de anekdote van Petrus, waarin hij Jezus verraadde. Zo zal FIDE-voorzitter Florencio Campomanes zich ongetwijfeld ook gevoeld hebben toen Short en Kasparov uit de FIDE stapten en hun eigen bond (PCA) oprichtten. Campomanes koos eieren voor zijn geld door snel een vervangende match tussen Karpov en Timman te organiseren.
De afsplitsing was een historische stap van Short en Kasparov, maar het zal hen geen windeieren opgeleverd hebben. Zij vonden dat de FIDE de match voor een appel en een ei kreeg en dat er teveel geld naar de FIDE ging. De oprichting van de PCA was het hele eieren eten, dat was voor hen het ei van Columbus. Kasparov sprak de volgende historische woorden voor de finalematch tussen Short en Timman, "It will be Short and it will be short". Het werd Short en de afloop is algemeen bekend: de titelmatch was voor Kasparov was eitje. Hij won de match in Londen met 12½-7½. Nigel bleek een zacht eitje vergeleken met de ervaren matchspeler die Garry was.
Short zou nog jarenlang een wereldtopper blijven, maar in de eenentwintigste eeuw daalde hij langzaam af naar de subtop. Steeds vaker ging hij toernooien spelen in verre oorden zoals Afrika, Australië en Azië. Voor de toptoernooien werd hij minder vaak uitgenodigd, dus Nigel zal gedacht hebben "beter een half ei dan een lege dop". Hij werd ook steeds actiever in de periferie van het schaken: schrijven en politiek. Een aantal jaren had hij een veel besproken column in het magazine van New in Chess. Zijn artikelen deden geregeld stof opwaaien, met name omdat Short niet schroomde om een eitje met iemand te pellen.
De laatste jaren horen we steeds minder van de schaker Short, maar dat komt omdat hij zich steeds meer met de schaakpolitiek is gaan bezighouden. Hij stelde zich in 2016 kandidaat om voorzitter van de FIDE te worden, maar toen hij inzag dat hij het niet zou redden, sloot hij zich aan bij het team van Dvorkovitsj. Deze voormalige vicepremier in Rusland werd de nieuwe FIDE-voorzitter en Short werd vicevoorzitter. De bond waarvan hij zich in 1993 afsplitste en die hij veelvuldig 'corrupt' had genoemd wil hij nu van binnenuit verbeteren.
In 2010 speelde Nigel tijdens de Max Euwe Matches tegen de vijftienjarige Anish Giri. De match eindigde in 2-2 (allebei een partij gewonnen en twee remises). Dagelijks gaf Nigel, met de nodige Britse humor, uitleg aan het publiek. Natuurlijk onder het genot van een glas witte wijn, want Short is samen met onder andere Timman en Sokolov een voorbeeld van de uitstervende schaakbohemien. (ES)
Nigel Short – an egghead?
What did Rupert mean with this cartoon? It's clear that Nigel Short is literally and figuratively an egghead, but what do all those other eggs and the crowing cock signify?
The drawing is from the 1990s, when Nigel was at the height of his powers. He had already had a great career as a prodigy, and in 1993, 28 years old, he qualified for the final of the FIDE World Championship! So it was nonsense to claim that he had just crawled out of the egg. The crowing cock seems to point at the anecdote of Peter betraying Jesus. This must have been how FIDE-chairman Florencio Campomanes felt when Short and Garry Kasparov stepped out of FIDE and founded their own federation (PCA). Campomanes, however, quickly laid another egg: he organized a substitute match between Anatoly Karpov and Jan Timman.
This split was a historic step by Short and Kasparov, but it proved to be a goose with golden eggs. Without treading on eggs, they argued that FIDE was taking too much money for the match and therefore the PCA was just the thing. Kasparov spoke the following historic words before the final match between Short and Timman: 'It will be Short and it will be short'. Indeed, it turned out to be Short, and the outcome of the final match is widely known: Kasparov won the match, held in London, 12½-7½. Nigel turned out to be a soft-boiled egg compared to experienced match player Garry.
Short would remain a world top player for years, but in the 21st century he slowly descended to the sub-top. He played his tournaments increasingly in faraway places in Africa, Australia and Asia. He received less invitations for the top events, so Nigel must have thought, 'Half an egg is better than an empty shell'. Also, he became more and more active in the periphery of chess: writing and politics. For a number of years, he had a column in New in Chess magazine, regularly causing a great deal of controversy mainly because Short never hesitated to break an egg to make an omelette.
In recent years we have been hearing less and less from Short as a chess player, but this is because he has increasingly become involved in chess politics. In 2016, he stood up for the presidency of FIDE, but when he realized he wasn't going to make it, he joined the team of Arkady Dvorkovich. The former vice-premier of Russia became the new president of FIDE, and Short became the vice-president. He split off from the federation in 1993, and had often called it 'corrupt' – now he wants to improve it from the inside.
In 2010, Nigel played against the fifteen-year-old Anish Giri during the Max Euwe Matches. Their match ended 2-2 (both won one game, with two draws). Every day, Nigel gave explanations to the public with a good dose of British humour, and, of course, while sipping a good glass of white wine. For just like, among others, Timman and Ivan Sokolov, Short is a true member of that species that is being threatened with extinction – the chess bohemian. (ES)