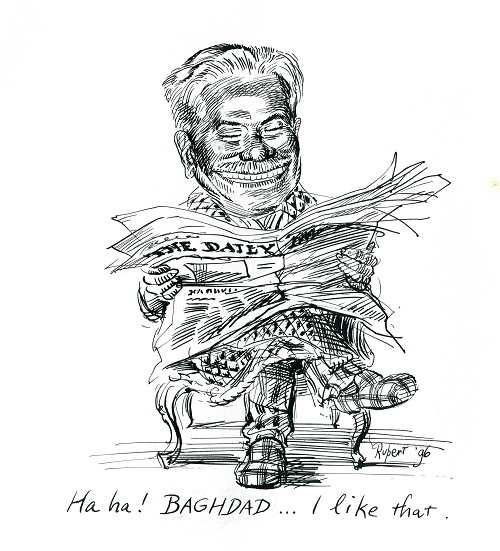 Na Alexander Rueb, Folke Rogard, Max Euwe en Fridrik Olafsson, werd de Filipijn Florencio Campomanes in 1982 FIDE-president. 'Campo' was uit een heel ander hout gesneden dan zijn westerse voorgangers en de verhalen over omkoping en vriendjespolitiek doken al snel op. Zo werd de WK-match tussen Karpov en Kasparov in 1985 door Campo afgebroken omdat Karpov op instorten stond. Volgens de overlevering zaten hoge Russische autoriteiten (KGB, Kremlin), die achter Karpov stonden, achter dit besluit.
Tussen Kasparov en Campo zou het nooit meer goed komen en dat leidde in 1993 tot de oprichting van de PCA (Professional Chess Association). Kasparov en Short vonden dat er teveel geld van hun WK-match naar de FIDE zou gaan en richtten hun eigen bond op. Hoewel Campo nog snel een vervangende FIDE-match tussen Karpov en Timman wist te organiseren, kostte deze affaire hem uiteindelijk de kop. In 1993 werd Campo opgevolgd door Kirsan Iljoemzjinov, de autocratische leider van Kalmukkië. (zie het artikel over Iljoemzjinov in deze reeks)
Iljoemzjinov had in 1996 het stuitende plan geopperd om de WK-match tussen Karpov en Kamsky in Bagdad onder te brengen. Campomanes, inmiddels ere-president van de FIDE, was in zijn nopjes met dit plan, zoals Ruperts tekening laat zien. De meerderheid van de schaakwereld stond echter op zijn achterste benen! Desalniettemin bleef Iljoemzjinov tot 2018 president van de FIDE, met name omdat hij de Russische schaakfederatie achter zich had staan en hij door omkoping genoeg andere stemmen wist te behouden. Met de verkiezing van de Rus Arkadi Dvorkovich tot FIDE-president, lijkt de schaakwereld weer in goede ('nette') handen terecht te zijn gekomen. (ES)
Florencio Campomanes
After Alexander Rueb, Folke Rogard, Max Euwe and Fridrik Olafsson, the Filipino Florencio Campomanes became FIDE-president in 1982. 'Campo' was a quite different type of administrator than his Western predecessors, and soon all kinds of stories about bribery and nepotism cropped up. For example, the 1985 World Championship match between Karpov and Kasparov was broken off by Campo because Karpov was on the verge of collapse. Rumour had it that high Soviet authorities (KGB, Kremlin), who supported Karpov, were behind this decision.
Kasparov and Campo would never see eye to eye again, and in 1993 this led to the foundation of the PCA (Professional Chess Association). Kasparov and Short thought that too much of the money for their World Championship match would go to FIDE, and established their own federation. Even though Campo managed to quickly organize a substitute FIDE match between Karpov and Timman, this affair eventually led to his downfall. In 1993, Campo was succeeded by Kirsan Ilyumzhinov, the autocratic leader of Kalmykia (see the article on Ilyumzhinov in this series).
In 1996, Ilyumzhinov came up with the quite shocking plan of appointing Baghdad as the host of the World Championship match between Karpov and Kamsky. Campomanes, who was Honorary President of FIDE at that point, was over the moon when he heard about this plan, as Rupert's cartoon shows. However, the majority of the chess world rose up in arms! In spite of this, Ilyumzhinov remained president of FIDE until 2018, mainly because he was backed by the Russian chess federation and because he managed to secure enough votes by means of bribery. With the election of the Russian Arkady Dvorkovich as FIDE president, the chess world seems to have fallen into good ('decent') hands again. (ES)