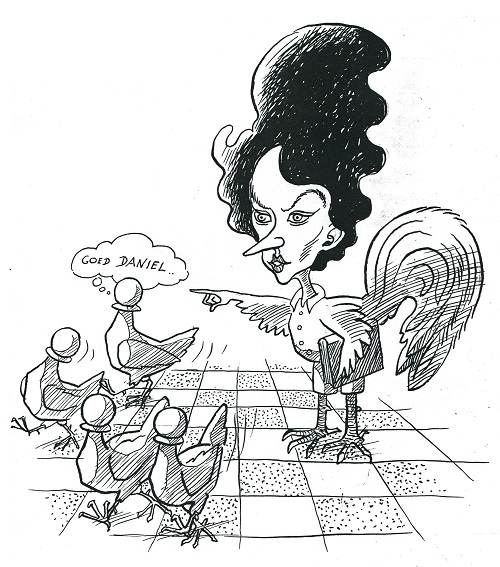 Talenten heeft Nederland de laatste decennia genoeg. Maar de weg naar schaakprofessional is velen toch te bar. In zijn jeugd werd Stellwagen vaak vergeleken met Timman en Piket op diezelfde leeftijd, en dat viel niet in zijn nadeel uit. Daniel werd geboren in 1987, dus net na de beste generatie schakers van dat decennium (1985: in Nederland L'Ami en Smeets, daarbuiten onder andere Bu, Navarra en Mamedjarov). Dat kan je carrière aardig in de weg zitten, maar daar bleek niets van.
In Nederland werd Daniel kampioen zowel tot tien als tot twaalf jaar, en op Europees en wereldniveau tot twaalf jaar miste hij de titels op een haartje: hij werd tweede in beide toernooien. Nederlands jeugdkampioen tot twintig jaar werd hij in 2005, waarmee we de jeugdperiode kunnen afsluiten. Op naar de titels! Dat ging bijzonder soepel: eind 2002 haalde Stellwagen de IM-titel binnen, en in 2004 werd hij grootmeester. In beide gevallen ook als jongste Nederlander. Daarin vond hij al snel een opvolger overigens: Robin van Kampen, jaargang 1994. En later weer Jorden van Foreest (jaargang 1999). Duidelijk is dat de "jongste Nederlander" niet voor de eeuwigheid is…
Maar wanneer tel je echt mee in Nederland? Dan moet je presteren op het NK, en het liefst ook winnen. Stellwagen ('de tovenaar uit Soest') komt ver. In 2002 wordt hij nog uitgeschakeld door Friso Nijboer in de allerlaatste kwalificatieronde, maar een jaar later, in 2003, is het wel raak. Hij begint stevig en wint zijn eerste vier partijen. Ik kan me voorstellen dat de winst in de krankzinnige partij tegen John van der Wiel in de eerste ronde Stellwagen vleugels gaf. Als het dan verder een beetje meezit loopt het natuurlijk lekker. Daniel zal maar eenmaal verliezen (tegen Van der Doel, en niet bepaald nodig) en wordt gedeeld tweede met Tiviakov (onthoud die naam!) achter de die jaren ongenaakbare Loek van Wely. Het jaar daarna, in 2004, eindigt hij in de middenmoot, maar een jaar later, in 2005, wordt Daniel weer gedeeld tweede. Weer met Tiviakov, en weer achter Van Wely…
In 2006 is Tiviakov de held, maar Daniel eindigt wel in de top vijf. Hij is duidelijk een vaste waarde geworden in de Nederlandse top. Zou 2007 dan het jaar worden waarin het uiteindelijk lukt? Hij begint rustig met twee remises, maar dan krijgt Daniel het opeens op zijn heupen en wint vier keer achter elkaar! Daarna volgen enkele remises, maar één speler komt steeds dichterbij: Tiviakov! Beiden winnen in de voorlaatste ronde, en in de laatste ronde halen beiden een remise. Tiviakov soepel, maar Stellwagen uiterst moeizaam. Beiden gelijk op acht punten uit twaalf partijen. En dus: een barrage… In de eerste partij komt Daniel met zwart eerder slecht te staan, maar na een mindere zet van Tiviakov komt hij weer terug in de partij. Wanneer de tijd begint te krimpen ontsnapt hem een blunder en gaat een stuk in de doos. De opening in de tweede partij verloopt voorspoedig, maar één onnauwkeurige zet bederft alles en Tiviakov is er de man niet naar om zich zo'n kans te laten ontgaan. Een jaar later, in 2008, gaat het weer voortvarend: bij het ingaan van de laatste ronde staat Daniel een half punt los. Er is echter een klein probleem: hij moet met zwart tegen Jan Smeets, een aanvaller pur sang. Vlak na de opening maakt Stellwagen een fout en Smeets grijpt meteen zijn kans. Hoewel er een klein hikje zit in de afwerking laat wit zijn prooi niet meer los…
In de tussentijd mag Daniel ook nog gewoon meedoen aan de WK jeugd tot 20 jaar. Hij wordt twee keer zevende (in 2005 en 2006) – dat is hij ook steeds ongeveer op rating. Maar het jaar daarop, wanneer hij tot de favorieten behoort (tweede op rating na Wang Hao) eindigt Stellwagen teleurstellend als elfde.
Toernooien speelt Daniel vooral in Nederland, en competitie daarnaast in Duitsland in de Bundesliga. Amsterdam, Dieren, Groningen, Hoogeveen, Vlissingen en Wijk aan Zee: meerdere keren allemaal gespeeld, maar winnen is er niet bij. Ereplaatsen wel natuurlijk. Wanneer hij in 2009 uitgenodigd wordt voor de A-groep van het Corustoernooi is dat een krachtproef van jewelste. Stellwagen maakt elf keer remise, en verliest maar twee keer: van de latere winnaar Karjakin en van Dominguez. Hij presteert ruim boven zijn rating, maar eindigt desondanks op een gedeelde laatste plaats. Samen met Adams, Ivantsjoek en Morozevitsj: je kunt slechter gezelschap treffen…
En hoewel Daniel hierna nog Nederland vertegenwoordigt op de Olympiades (en goed scoort) en in de clubcompetities blijft spelen blijven de toernooien weg: in 2009 nog eentje en dan droogt het helemaal op. Hij kiest voor zijn studie (scheikunde) en is inmiddels gepromoveerd op een gebied dat voor mij te ver van mijn bed ligt…(PvV)
Daniel Stellwagen
There have been plenty of talented players in Dutch chess in recent decades. But the road to becoming a professional is too barren for many. In his youth, Daniel Stellwagen was often compared with Jan Timman and Jeroen Piket when they had the same age, and it didn't turn out unfavourably for him. Daniel was born in 1987, just a little later than the best generation of chess players from that decade (1985: Erwin l'Ami and Jan Smeets in the Netherlands, and abroad, among others, Bu Xiangzhi, David Navara and Shakhriyar Mamedyarov). Such a thing can work as a heavy obstacle for your career, but that didn't happen in Daniel's case.
Daniel won the national U10 as well as U12 championships, and at the European and World levels he only missed these titles by a hair's breadth, coming second in both tournaments. He became Dutch U20 Champion in 2005, and here we can conclude his youth period. Onward, to the titles! In that respect, things went particularly smoothly: Stellwagen conquered the IM title in late 2002 and became a grandmaster in 2004 – as the youngest Dutchman ever in both cases. In this respect, by the way, he soon found a successor: Robin van Kampen, born in 1994, and later Jorden van Foreest (born 1999). Clearly the title of 'youngest Dutchman ever' is not for ever…
But when do you really count as a Dutch player? Well, you have to perform well in the Dutch Championship, and preferably win it. Stellwagen ('the magician from Soest') came far. In 2002 he was eliminated by Friso Nijboer in the final round of the preliminaries, but one year later, in 2003, he did qualify. He started strongly in the championship, winning his first four games. I can imagine that his win in an insane game against John van der Wiel may have given Stellwagen wings. And then, if things go your way a little, you're on a roll, of course. Daniel lost only one game (against Erik van den Doel – not exactly necessarily) and ended shared second with Sergey Tiviakov (remember that name!) behind Loek van Wely, who was in a class of his own in those days. In the next year, 2004, he ended in the middle of the list, but one year later, in 2005, Daniel came shared second again – again with Tiviakov, and again behind Van Wely…
In 2006, Tiviakov was the hero, but Daniel did end in the top-5. He had clearly become a fixed value in the Dutch top. Was 2007 the year in which he would finally make it? He started quietly with two draws, but then suddenly started playing like the devil and won four times in a row! A couple of draws followed, but there was one player who was closing in on him: Tiviakov! Both players won in the penultimate round, and drew in the final round – a smooth one for Tiviakov, but Stellwagen had a lot of difficulty achieving it. So, both ended on 8 points out of 12 games, which meant a playoff… In the first game, Daniel, with black, was worse at some point, but a weak move by Tiviakov allowed him back in the game. Time was running out, Daniel blundered, and a piece went into the box. In the second game, the opening went favourably for him, but one single inaccurate move spoiled everything, and Tiviakov is not the man to let such a chance slip. One year later, in 2008, he played powerfully again: at the start of the final round Daniel was half a point ahead of the field. However there was a small problem: he had to play with black against Jan Smeets, a fully-fledged attacker. Right after the opening, Stellwagen made a mistake, and Smeets grabbed his chance immediately. Although there was a slight hiccup in the conversion, White didn't let go of his prey…
In the meantime, Daniel could also still participate in the World Junior U20 Championships. Twice he ended in seventh place (in 2005 and 2006) – more or less corresponding to his rating. But in the next year, when he was among the favourites (second on rating behind Wang Hao), Stellwagen ended disappointingly in eleventh place.
Daniel played in tournaments mainly in the Netherlands, and otherwise in the Germany Bundesliga. Amsterdam, Dieren, Groningen, Hoogeveen, Vlissingen and Wijk aan Zee: he played in all of them several times, but didn't win anything. Of course there were honoured places. When he was invited to the A-Group of the Corus Tournament, this was a tremendous trial of strength. Stellwagen drew eleven games and lost only twice: to the later winner Sergey Karjakin and to Leinier Dominguez. With this performance he exceeded his rating by many points, but still ended in shared last place together with Adams, Ivanchuk and Morozevich – it's possible to end up in worse company…
After this, Daniel represented the Netherlands at the Olympiads (and scored well) and kept playing in the club competitions, but the tournaments ran out: one more in 2009, and then it ran completely dry. He gave preference to his study (chemistry) and has taken his Ph.D. in a field that is way beyond my competence…(PvV)