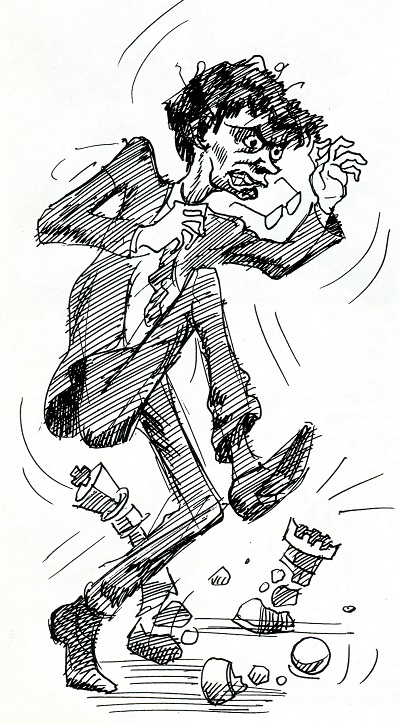 Around the turn of the century, Loek van Wely was engaged in a battle with Jeroen Piket to become the heir to Jan Timman's throne. When Jeroen stopped playing chess in 2001, Loek was the undisputed number one in the Netherlands.
Van Wely won the Dutch Championship no less than six times in a row (2000-2005). Internationally, he was at his best right after the turn of the century. Besides his 'subscription' to the Dutch title, he won the Lost Boys tournament twice, and also at the Olympiad and in Wijk aan Zee he showed that he was close to the world top. Sixteenth place in the world rankings (2001-2002) was his highest position ever.
Loek was fanatical, and not only in chess. He played soccer, jogged his rounds and played poker with abandon. In his younger years, when he was conquering a place in the Dutch chess top with quite a bit of bravado, he also regularly accepted challenges and bets, and in fact he has always kept doing this.
In 2018, Loek played against Hans Böhm for the 'Homo Ludens Trophy'. The 45-year-old Van Wely joined battle with Böhm, who is 23 years older, in the following disciplines: table tennis, billiards, tennis, table football and backgammon. After a tense struggle, Hans won the pentathlon with a 3-2 score, and Loek congratulated him with a smile. Probably Loek would have been less amused in 2002, when the above drawing was made.
In recent years, Van Wely has changed tack. He married the Salvadoran chess player Lorena Zepeda, they had two sons, and Loek entered the Eerste Kamer (the Dutch House of Lords) on behalf of the 'Forum voor Democratie'. In chess, he became the tournament director of the Hoogeveen tournament, he also gives trainings to junior top players and still plays his games in the various competitions.
His fanaticism has disappeared for the largest part, but it has brought him a fine career. (ES)